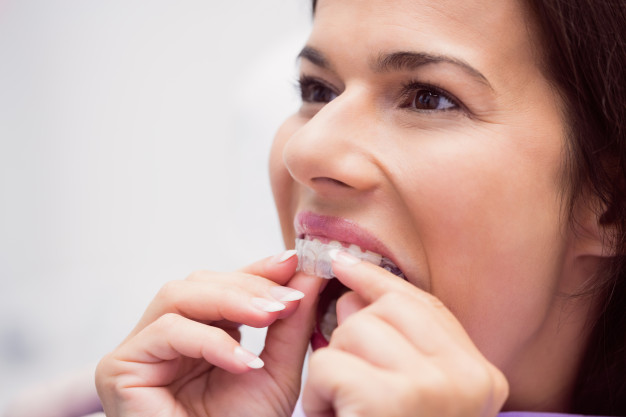 Considering investing in Invisalign in Ingleside, Texas? Palm Tree Dental is proud to offer comprehensive invisalign braces services at our Ingleside dental office. Continue reading to learn more.
What is Invisalign?
Invisalign was designed to replace traditional metal braces.
It operates through a series of clear aligner trays that the patient wears over the course of a year or so.
Each tray is worn for about two weeks. During these two weeks, a specific region of teeth is concentrated on in order to ensure that all teeth shift properly. Depending on the amount of alignment or correction that the patient's smile needs, the process can take anywhere from one to two years, with most cases finishing in just over one year.
Why Choose Invisalign?
Invisalign is wildly favored as it allows the patient to achieve a straighter smile while remaining discreet and comfortable.
Invisalign trays can easily be removed when it comes time to eat or brush your teeth, and treatment is completed in just a fraction of the time that it typically takes with traditional metal braces.
Am I a Candidate for Invisalign?
Every case is different. There are some cases in which an individual may not be a candidate for invisalign, such as:
Extreme misalignment or crowding
Developmental issues with teeth or jaw
Patients who are not willing to keep the trays in for the majority of each day
Patients who smoke (may lead to staining or discoloration in the trays)
Children too young to follow directions for proper use
It's always best to speak with your trusted dentist in Ingleside or orthodontist to determine if you are a candidate for invisalign braces for teeth.
Invisalign Braces for Teeth in Ingleside, Texas
Invisalign has the potential to allow you to achieve your dream smile without the discomfort or embarrassment of traditional metal braces.
To start your consultation for Invisalign braces for teeth in Ingleside, give Palm Tree Dental a call anytime at 361-238-4460.